Chris Moreau Trio Tuesday at the Purple Parrot Beach Bar & Grill! Chris Moreau Trio includes "Super" Dave Caluger on the stand up bass and vocals. Also, James "JD" Daniel on the smoking lead guitar and vocals. All with rhythm guitar and lead vocals, Chris moreau. Come early and Stay Late for Chris moreau Trio Tuesday!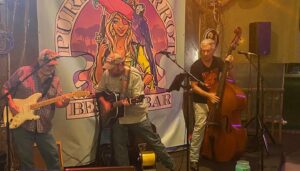 Who is Chris Moreau?
Chris Moreau is a US Navy Aircrew, Combat Decorated Veteran with a style groomed from playing dance halls and festivals of Southwest Louisiana and East Texas. Strong style influences from Classic Country Legends such as Merle Haggard, Gary Stewart, and many more. During live performances these influences come through in the cover songs Chris performs…mainly 70's, 80s, and 90s Country with quite a few Classics thrown in.
"Real Music for Real People about Real Life!"
Chris started out playing rhythm guitar and singing classic country with Louisiana local bands. He soon grew his own following before moving to Branson, Missouri to play with and learn from some talented musicians.
Chris decided to continue his passion by recording and releasing music that is honest and not over-produced. He wanted his music to have a retro-country music feel. Working with hit songwriters Mark Sherrill "Ole Red" (Blake Shelton), Troy Martin "Baby's Gotten Good at Goodbyes" (George Strait) and their partners, Chris added 4 singles to his music resume. These singles reached the Top 50 on Texas Radio, Top 3 in Louisiana Radio and International Country Music charts. Chris is now playing solo acoustic and full band shows from Louisiana, Texas, Branson, Nashville, Florida, and Montana.
Country music has always drifted a little right and left of center over time, but Chris is making a strong effort to bring it back a little closer to center with traditional instrumentation, real musicians, and with real lyrics about real life that we can all relate to.
Where is the Chris Moreau Trio playing?